---
Set EW-7206APg to use Access Point Mode
This Access Point provides web-based configuration tool allowing you to configure from wired or wireless stations. Following instructions is using Windows XP Professional, other Windows is similar.
Use a Wired Station to do the following. Make sure your wired station is the same subnet with the Access Point.
The default IP Address and Subnet Mask of the Access Point is:
Default IP Address: 192.168.2.1
Default Subnet Mask: 255.255.255.0
Configure your PC to be in the same subnet with the Access Point.
1. Click the Start button and click Control Panel.
2. Double-click Network Connections icon.
3. Under General Tab, check for TCP/IP. If TCP/IP is not installed, click the Install button to install. If TCP/IP is installed, go to step 6.
4. Click Install, choose Protocol and click Add button.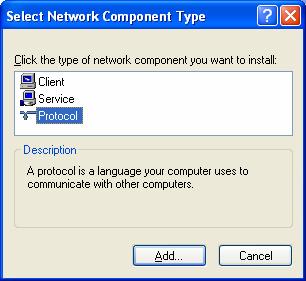 5. You may need your Windows CD to complete the installation.
6. After installing TCP/IP, select TCP/IP from the list and then click the Properties button.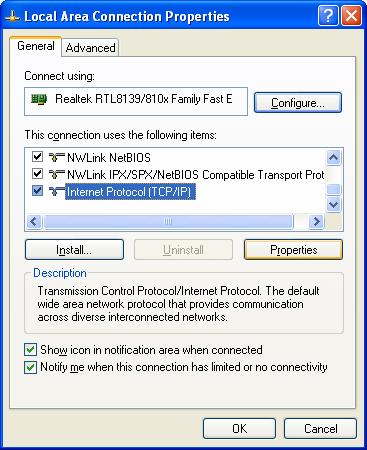 7. Select Use the following IP Address.
IP Address:

192.168.2.3

(any IP address within 192.168.2.2~192.168.2.254 is available,

do not use 192.168.2.1

)

Subnet Mask:

255.255.255.0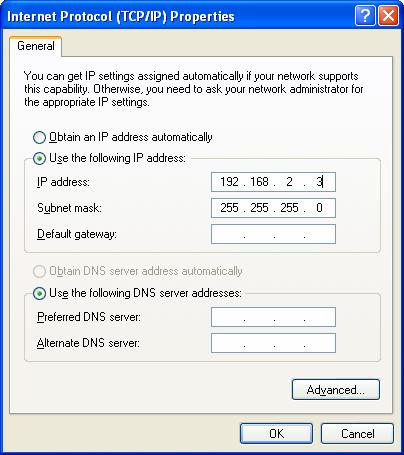 8. Click OK, and OK again to Close Local Area Connection Properties.
9. Go to Internet Explorer and type in 192.168.2.1, the default IP of the Access Point. In the Username/Password, enter Admin/1234
10. Click on Basic Setting, select AP, type your ESSID. Click Apply to save setting.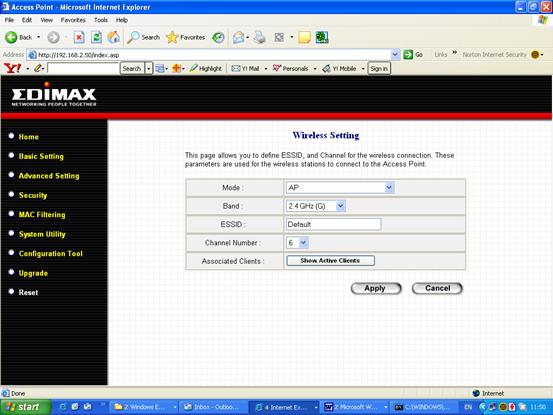 ESSID:
The Wireless Device in the client computer will detect this SSID. You can change it or leave it as default.
Step

Set Wireless Security

2
1. Set WEP Security. Click on Security. Select WEP, 64-bit, Hex, Key 1. Enter 10 digits Hex key in Key 1. Click Apply to save the setting.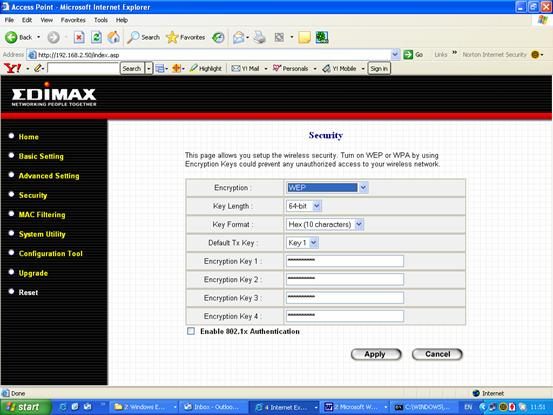 Hex key: Must use a valid Hex key (0-9, a-f). Example Hex key = 1a5c734216.
Refer to ASCII table for Hex at http://www.lookuptables.com/
2. Set WPA Security. Select WPA pre-shared key. Select WPA(TKIP) and Passphrase. Type the Pre-shared key (8-63 characters) and click Apply to save the setting.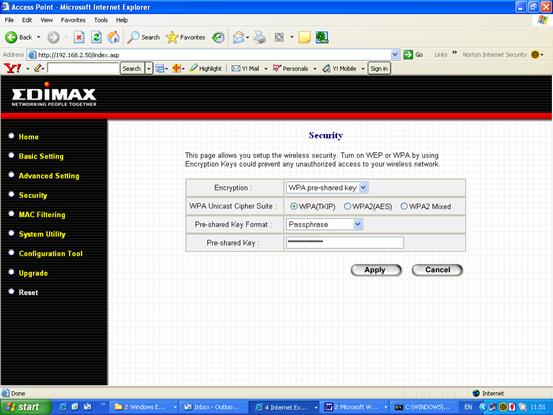 Step

Troubleshooting / FAQ

3
---
I canít logon to the Access Point, page can not be found?
1. Check if the computer connects directly to the Access Point has been set to a same range IP address with the Access Point.
2. If EW-7206APg is connected to a router, change the default IP Address of EW-7206APg to be the same range of the router.
Go to System Utility and change the Management IP. Default Gateway is the routerís IP Address.