FAQ for Edimax Wireless Routers

(BR-6216Mg, BR-6204WG, BR-6114WG, BR-6104WG, BR-6104WB)

---

Please refer the FAQ for routers for basic configuration on routers.
Q: How do I enhance the security of my wireless network?
A: You can use WEP encryption for your wireless network. There are two steps. Enable the WEP and setup the key in the wireless router. And setup the same WEP key on each of your wireless computers.
Q: How do I setup the 64bit WEP key in my wireless router?
A: You can use a wired computer or wireless computer to perform the following procedure.
1. Login to the wireless router. By default, our wireless router has IP address 192.168.2.1. You can open the Internet Explorer and in the address bar, type in http://192.168.2.1 Hit Enter.
2. The default username is admin. Password is 1234.
3. In the router setup page, click on General Setup.
4. On the left menu, click on Wireless.
5. Under Wireless, click on Security.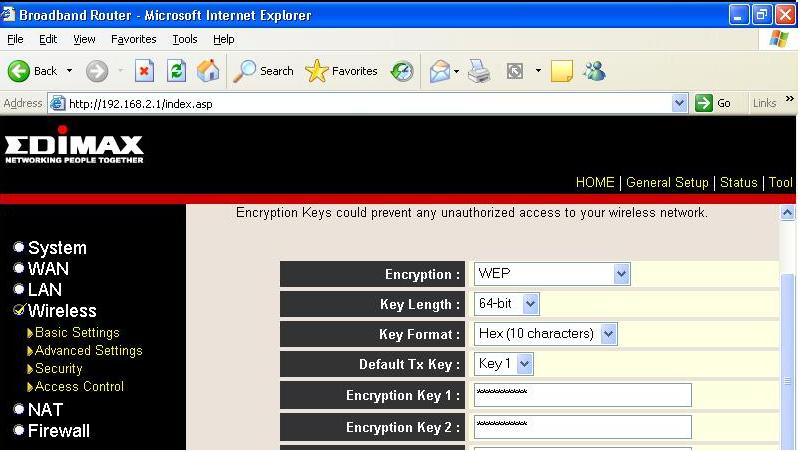 5. In the drop down selection box of "Encryption", select WEP.
6. Key Length 64-bit is fine. Key Format Hex is fine. Default Tx Key is Key 1.
7. Under Encryption Key 1, remove all the * and type in your 10 alphanumeric encryption key. You can use any number from 0-9 and alphabet from A-F. We suggest you use 10 digital number than alphabet letters for an easier setup.
6. Click Apply to save the settings.
7. Now you've successfully set WEP encryption in the wireless router. If you use a wireless computer to login to the router, you will lose the connection with the wireless router because you do not setup the same WEP key in your wireless computer yet.

Q: How do I setup WEP key in my wireless computer?

A: Below instruction is for Windows XP SP2. If you use Windows 2000 or Win 98, you will need to run the wireless utility provided by the wireless network adapter manufacturer. Please refer the user manual for your wireless network adapter.

In Windows XP SP2, click on Start -> Run. Type in "ncpa.cpl" hit Enter. You will get the Network Connection Windows. You should see the icon for Wireless Network Connection. Right click on Wireless Network Connection and select "View Available Wireless Networks".

In the new window for "Choose a Wireless Network", you will see your wireless router. For our Edimax router, the default name is "default". Select your wireless network in the list, then click on Connect. You will be prompt to type in your WEP key. Type in the 10 characters key. Under the confirm key, type in the WEP key again. Hit OK. You will connect to your wireless network. Close the "Choose a Wireless Network" window.

You may double click on the Wireless Network Connection icon. Go to Status tab. Check the IP address. If you get an IP address like 192.168.2.x, you should have Internet access.